Layer Cake Swiss Roll Production Line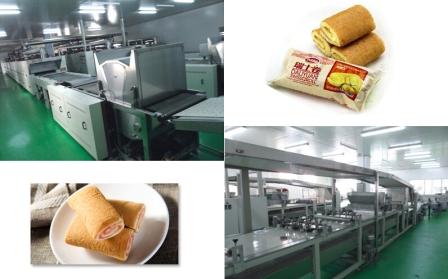 General Introduction:
The whole set equipment consist of liquid material-mixing machine, liquid material- storing bucket, liquid material-feeding machine, steel band gas tunnel oven, return conveying mesh belt, strip cutting equipment, cream/jam/chocolate filling equipment, cake bars turn over equipment, press equipment., horizontal cut-off equipment, cooling and conveying system etc.
Characteristics:
Use this equipment can make cake without moulds. Just change the block-circle between the knife and adjust the speed of horizontal knife, you can make the various size of cake swiss roll.
Working Process:
1). Depositing the liquid material directly on the steel band tunnel oven for baking.
2). After being baked inside the oven, the liquid material become a cake-belt, at the terminal of the conveying belt, it will be shoveled down, the convey back on the under belt. At this time, the cake belt is already turned over.
3). After the cake belt is conveyed back to the place of cream/jam/chocolate filling equipment. It will be lifted by the slope type convey belt to the working platform where the cake belt will be vertically cut into cake bars. Then spraying with cream/jam/chocolate. After that, turn over the cake belt one interval one and press on the beside belt. Then press a little bit.
4). After being horizontally and vertically cut, the popular new snack "swiss roll" came out.

Main parameter:
Capacity: 5-6tons/day      Power: 30KW
Gas consumption:20-25kg/hr Total length: 68M